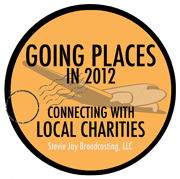 LAST YEAR WE DID HEELS & TIES @ 5! THIS YEAR IT'S GOING PLACES IN 2012 AND THE BEST PART IS THAT WE'RE STILL CONNECTING YOU WITH LOCAL CHARITIES!
Are you a sports fanatic? Do you like supporting local charities? Then don't miss Stevie Jay Broadcastings next "Going Places" event! Last time we played blackjack and gave away a trip to Las Vegas…this time, we salute the sports fans out there.
Wear your favorite sports team shirts, hats, helmets…whatever, and come have a drink, meet
some people and maybe win a fabulous trip to St Louis! Join us on Thursday June 28th from 5-7pm at The Refinery on Green St.
Your $5 donation gets you a drink, appetizers and registers you for prizes including our June trip to St. Louis! Proceeds go to the MAKE-A-WISH ILLINOIS. It's Going Places in 2012 Thursday, June 28 at The Refinery on Green St. from 5-7PM.
Dust off your favorite sports gear and come join the fun! Stevie Jay Broadcasting is Going Places in 2012! Brought to you in conjunction with Shelby Motors, The Refinery and Busey Bank.
LEARN MORE ABOUT THE NEW GOING PLACES IN 2012 BY VISITING ONTO FACEBOOK AND SEARCHING GOING PLACES IN 2012!
To become a sponsor, please call 217-367-1195.