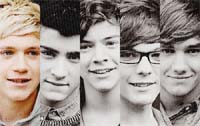 One Direction is coming to Tinley Park, Illinois Saturday July 13th and Q96 has your free tickets!
To win ALL you have to do is LISTEN to Q96, IDENTIFY our 15 Secret Songs and Write them down. Once we've played all the songs. We'll open the phone lines. If you can repeat our 15 secret songs back to us in order you'll be off to see One Direction.
The Secret Songs starts Monday October 15th! We will play each days secret song 3 times per day. We'll play the secret song of the day at 720AM, 1220P and 320P.
If you miss it in the morning, you have a chance to hear it during lunch and then again during the 3PM Hour.
It's Q96's Secret Songs Contest with your chance to win tickets to see One Direction in July 2013 with Q96!
The Secret Songs Contest is going on now.