COMPLETE CARE PHARMACY

14 East Washington, Suite C
Champaign, IL 61820
(217) 355-6607
YOUR COMMUNITY PHARMACY
CompleteCare Pharmacy has been serving Central Illinois since 2000. Our team leverages over 100 years of combined experience to meet your health and wellness needs. They provide the following services:
• Free delivery within the Springfield, Chatham, Champaign, Urbana and Savoy city limits
• Refills via phone or online
• Competitive prescription pricing
• Personal service
• Expedient prescription fill time
• Acceptance of most insurance policies
CompleteCare Pharmacy is proud to complement the services of their local healthcare providers through accurate and expedient prescription dispensing, as well as consultative and medication therapy management services. Their efficient team of technicians and pharmacists strive to provide prompt and friendly service.
They actively seek out programs designed to lower your drug and healthcare expenses. Whether your concern is price, dealing with your insurance company or just understanding your options, CompleteCare Pharmacy cares!
---
VIDEOS
DOWNLOAD A $20 PRESCRIPTION VOUCHER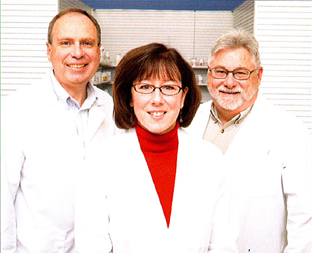 (From left to right) Bruce Strike, R.Ph. and Pharmacy Manager
Jo Lynne Clauson, R.Ph. and Rick Ingram, R.Ph.
Got a question? Ask Complete Care Pharmacy!