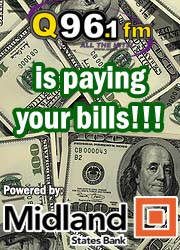 HERE'S HOW YOU WIN:
Submitting your bill couldn't be easier. Please use just one of the following four ways:

1. Mail it to us
Q96/Pay Your Bills
2702 Boulder Road
Urbana, IL 61802

2. Fax it
217-367-3291

3. Drop it off
Q96/Pay Your Bills
2702 Boulder Road
Urbana, IL 61802
4. Scan it in and email us:
Q96@sjbroadcasting.com

No original bills will be accepted and the account number should be blacked out prior to scanning. Submit yours by November 1st. Because starting November 1st, Q96 will start paying bills! We will pay bills each weekday. Once you've submitted your bill, listen for us to announce your name. When we do you'll have 10 minutes to call 328-9600 and get your bill paid with Midland States Bank, Member FDIC and All the Hits, Q96!
Click here for Q96 Contest Rules